Yesterday my mom came over in the afternoon to do some cleaning and visit for a time. While she was here, I mentioned how picking DRY my feet are now that I have been laying around all day with no shoes and socks on. I have never had dry feet for as long as I can remember. I have this thing with feet.... they are ugly. No really, I hate feet. So when I feel like my own feet are disgusting it is that much worse. Something had to be done. So my mom went to the closet and got all the foot care products, including the foot bath that plugs in and vibrates on the bottom to massage your feet.
The first step was filling the foot bath with water.... first it was scalding hot. I couldn't put my feet in it, so mom runs to get an ice cube tray and dumps the ice in there, making the water pretty much cold. I soaked my feet for a bit....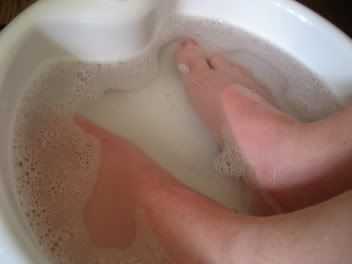 while mom fiddled with the foot scrub....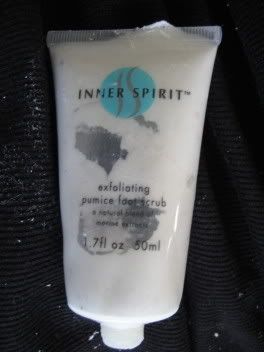 Please take notice of the bit of foot scrub oozing out the top of the container. This scrub has many tiny granules in it for scrubbing all the calloused skin off your feet. The thing about these granules is that they have this nasty habit of clogging the little hole that the scrub is supposed to come out of, hence creating pressure in the bottle. Therefore, the bottle suddenly burst open from the top of the container, and since mom was facing me at the time, the scrub then went all over me, the couch, and the lamp....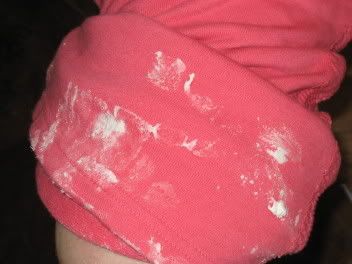 So we scooped the scrub off my pants and the couch and used it on my feet. It was quite the pedicure in the end, but it is the thought that counts, isn't it? At least my feet feel better!