Every morning it is the same routine... David's alarm goes off around 6:30, we cuddle for a bit (aww how cute!) and then I go park myself on the couch, positioning the pillows behind me while David gets ready for work. Then comes breakfast. It's always hard for me to decide on what to eat for breakfast, and yesterday I had settled on some instant oatmeal and yogurt. I know. I am so demanding. David then trots off to the kitchen to "cook" my breakfast. "oh, yeah, honey one more thing!" I call out after him. "I think there might be some strawberries or some other kind of fruit in the fridge. Could I have a little bit of fruit with breakfast, too?"
A minute later David walks into the living room with the entire bag full of grapes dripping all over the floor, as he had just washed them. "Ummm, hon, you might want to go put those in something so they don't drip water all over the floor." A minute later he comes back in with this: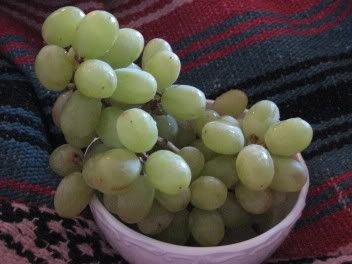 and plops it down in my lap. He had given me the whole cluster of grapes in a cereal sized bowl. What??? Should I go stomp them for a while and make a bottle of wine for us, dear? (Mind you I had asked for a LITTLE bit of fruit to go with my breakfast.) Something tells me he may not ever become "mister mom" around the house. Simple household chores that are second-nature to me are beyond the realm of understanding for my husband, and it does bring me amusement from time to time. I need something to laugh at right now, after all. We balance each other out well in all. He is great at anything that has to do with computers, so when I can't figure out how to do this or that he comes to my rescue. To each his own I suppose....
Oh one more little thing. Tomorrow is appointment day, and we find out what my incompetent cervix is up to this week. Will it be shorter than the 2.2 cm from last week? Will there still be funneling? Will they hold me captive? The suspense of it all!