So this whole 3D ultrasound thing is still amazing to me. I just don't get how we can actually see what the baby looks like in there! Here is Dorothy at 23w3d yesterday at our appointment.
She was being a little shy at first: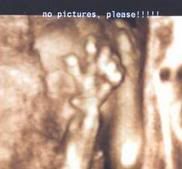 But she gave us a peek after she relaxed: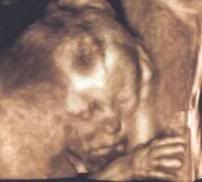 And here is one of me at 23w1d on Mother's Day: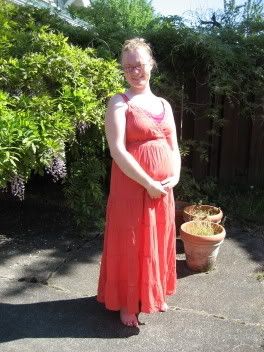 Our little one has decided (after being head down since 12 weeks) to turn breech and kick the snot out of my already incompetent cervix. I try to tell her we need it to stay closed for a good long time yet, so could she please stop; she kicks even harder. I guess the independence starts in the womb!
Yesterday I started reading a book on pregnancy bedrest. It is kind of amusing, as it was published in 1986 I think. Here are some of their suggestions:
"
The telephone with a special fifty foot extension cord was my lifeline... I wanted to keep my telephone with me everywhere I rested and walked. Or try getting a cordless telephone- more expensive, but handy
."
Evidently before the days of the cell phone. I remember my dad's first cell phone. It was the size of a brick.
"
Get a gadget to signal your family in other parts of the home, such as a handbell. Or use walkie-talkies- the toys work well.
"
You know why they call them walkie-talkies? Because you can walkie and talkie on them at the same time. Something tells me these won't be necessary in our 850 sq ft. home.
"
Not all of (your smaller) these items need to be on the cart or table. You can use a set of shoe pockets
...."
Shoe pockets? Are those the things that hang over your door?
"
A video cassette recorder (VCR) enables you to watch whatever you like whenever you want. It is also possible to purchase or rent a video cassette player, a machine that plays, but does not record. These players are much less expensive than the VCRs.... be sure to get a remote control device, preferably cordless, so you can operate the machine while in bed
."
How about my DVD player and cable TV? Between those and Blockbuster Online, there is never a lack for something to watch. I always make sure to get cordless remotes!:)
Aside from being outdated, there are some pretty good suggestions for how to set the room up and what to do with your schedule. Although I do have a bit of a beef with their wardrobe suggestions.
"
Cotton/acrylic drawstring sweatpants, these can be maternity sweatpants or regular, just size extra-large
."
"
T-shirts. You can wear maternity tops or use men's T-shirts, size extra-large. If this size is still tight, cut side vents. One woman used fabric marker pens to decorate several men's undershirts
."
These were just a couple of the winners for regular daywear. No thanks. Man, am I glad that maternity clothes have changed since the 80's!! I don't think I'd be caught dead in extra-large sweats and a decorated men's t-shirt cut on the sides. But, then again.....
"Honey, where's your undershirts???"