Today I ventured out of the house for something other than a dr. appointment! Since it was Easter Sunday I really wanted to make it to church. We were trying to figure out how this was going to work with having to be fully reclined. My parents ended up borrowing a recliner (that was not big and bulky like many of them) from their friends and loaded it into the back of their SUV. Hey the chair was even the same color as the carpet, so it didn't look too funny, which I was worried about. So I got to leave the house and even allowed myself to sit up at the table like a real person for dinner with David's family. We had dinner with my family last night, so in all it was a pretty good weekend.
I must admit my emotions run away with me sometimes. Today is one of those days where I have been feeling a bit fearful of babyb coming early. It usually passes quickly but it is hard when it comes. This is the hardest part, harder than the bedrest for sure.
I decided to take pictures to show the progression of my pregnancy, so here is me yesterday at 19 weeks.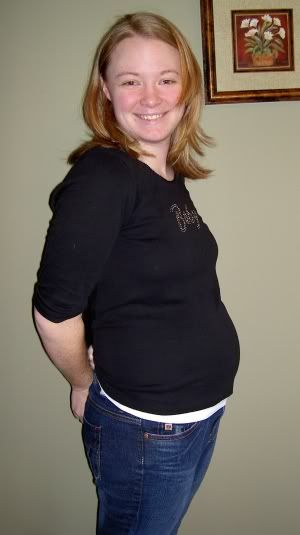 The angle doesn't fully show my baby bump, but you get the idea.
HAPPY EASTER!